The President of the HACA during her participation in the Forum Hispano-Arabic Media
"For the improvement of the media representation of the Other in an international context, the The first challenge is to prevent the media from acting as a factor of polarization of public opinion, particularly on issues of common geostrategic interest", affirmed Latifa Akharbach. The president of the High Authority for Audiovisual Communication (HACA) was speaking during her participation in the Hispano-Arab Media Forum, organized on May 17 and 18, 2022 in Madrid by the Spanish public audiovisual group RTVE.
During the work of this forum inaugurated by Ahmed Abo EL Gheit, Secretary General of the League of Arab States, José Manuel Pérez Tornero, president of RTVE, and Irene Lozano, director of the Maison Arabe, the president of the HACA also recalled that "the real challenges of promoting the quality and diversity of the media representation of countries, peoples and societies go beyond the simple challenge of strengthening soft power and influence of one or other of the parties with public opinion or business circles".
The real challenge she estimated, is to succeed in building trust, promoting promote mutual knowledge and strengthen awareness of the shared general interest to ensure the support of public opinion and the various actors.
"This membership, dependent on media action is necessary to ensure citizen engagement and support for the efforts and dynamics of building common spaces, shared prosperity, concerted action, continuous mobilization and participatory evaluation," Latifa continued. Akharbach.
"The link between trust, knowledge and efficient commitment can be illustrated through several examples of common challenges to be shared, including the fight against terrorism , managing migration and responding to climate change and ensuring the sustainability of natural resources, etc.," added the HACA President. And at the end of his intervention, Akharbach recalled the renewed needs in terms of promoting mutual knowledge through the initiation of a new dynamic of exchanges between the media and a truly inclusive dialogue. "More than ever, it is urgent to face together and in solidarity this problem of representation of the Other. Especially when this Other is the neighbor opposite, the one with whom you share the memory, the geostrategic space and the awareness of an interdependence of becomings", she concluded.
During this forum, called to become an annual meeting, the participants, coming from several Arab countries and representing the audiovisual media, the regulatory authorities, and the academic circles, the heads of delegation were received in audience, on Wednesday May 18 at the Royal Palace of Zarzuela, by the Spanish sovereign, King Felipe VI. They also met the Vice-President of the Spanish Government and Minister for Economic Affairs and Digital Transformation, Nadia Calviño Santamaría.
READ ALSO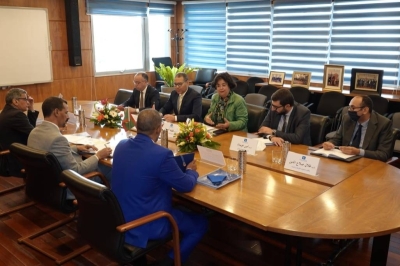 Read More