The SIGGRAPH 2022 event, lasting several days, begins, where we can find out about various news in the field of professional graphics chip applications. This year there was a presentation from Intel, which finally officially revealed the first details about professional ARC graphics chips. Some models have been rumored for weeks, but now we got to know information about ARC Pro models for desktops and laptops.
During this year's SIGGRAPH, Intel presented the first professional graphics systems based on on the Xe-HPG architecture. I am talking about the desktop ARC Pro A40, ARC Pro A50 cards and the ARC A30M mobile graphics chip.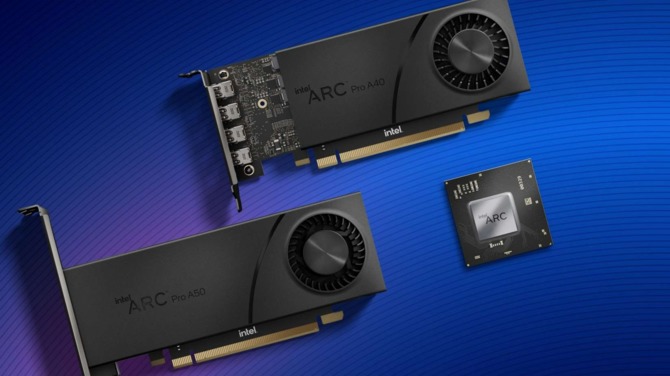 Intel ARC graphics cards are expected to be introduced gradually to the market. The manufacturer resigned from the loud premiere of the systems
During SIGGRAPH 2022, Intel announced three ARC models for the professional market. Two of them are the desktop graphics cards Intel ARC Pro A40 and Intel ARC Pro A50, using the full ACM-G11 chip with 8 Xe blocks and 1024 FP32 processors. The main difference is the structure of the cards itself. ARC Pro A40 is a single-slot design, designed for smaller computers. The Intel ARC Pro A50 takes up two slots and has a higher TDP of 75 W (and therefore a slightly higher core clock, but the exact numbers have not been given). Both cards also offer 6 GB of GDDR6 memory at 16,000 MHz.
Intel ARC Pro A30M
Intel ARC Pro A40
Intel ARC Pro A50
Architecture
Xe-HPG
Lithography
TSMC N6
Destination
Laptop
Desktop (1 slot)
Desktop (2 slots)
Graphics
ACM-G11
ACM-G11
ACM-G11
Xe cores
8
8
8
FP32 processors
1024
1024
1024
VRAM
4 GB GDDR6
6 GB GDDR6
6 GB GDDR6
VRAM clock
16,000 MHz
16,000 MHz
16,000 MHz
Bus
64-bit
96-bit
96-bit
VRAM Bandwidth
128 GB / s
192 GB / s
192 GB / s
Energy consumption
35-50 W (TGP)
50 W (TDP)
75 W (TDP)
Intel ARC – at least one major manufacturer has stopped production of Alchemist non-reference graphics cards
The third model is the Intel ARC Pro A30M mobile graphics chip, the specification of which is identical to the ARC A370M consumer model. Here, too, a full ACM-G11 chip with 8 Xe blocks was chosen. In the case of memory, we get 4 GB GDDR6 on a 64-bit bus. The processing power of FP32 is 3.5 TFLOPS, and the TGP can be configured in the range from 35 to 50 W. All presented cards offer, among others, AV1 codec support, as well as HEVC with HDR, as well as enable AI-related tasks thanks to the presence of hardware XMX units (Xe Matrix Extensions). The first desktops and laptops from popular OEMs will arrive in the coming months.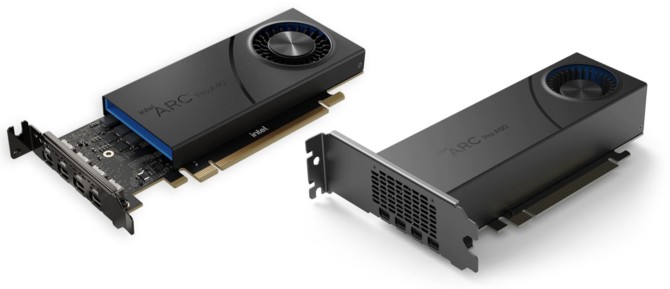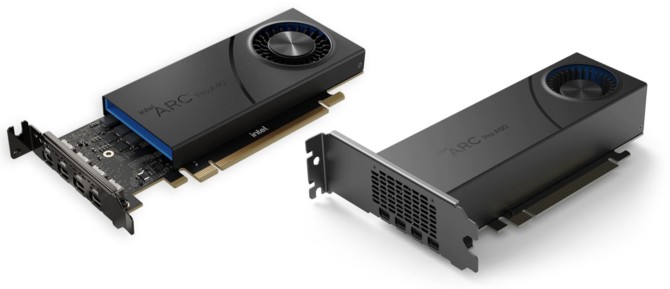 Source: VideoCardz, Intel